After seeing a Poynter article about a new expert service for journalists, Expertise Finder, I thought I'd put it through some paces. The site sounded great.  A former Canadian TV journalist, frustrated with trying to find experts on deadline, helped develop this new service. Good goals. Really nice interface. But it's not among my top recommendations. Here's why.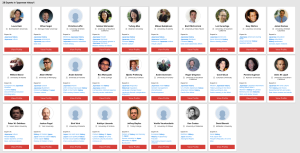 Since today is the anniversary of the bombing of Hiroshima I thought I'd look for someone who has expertise on that topic.  I put in "Hiroshima", then "nuclear bomb" then "radiation fallout."  I didn't come up with any experts.  "Japanese history", however, did turn up 28.
Expertise Finder says it has 20,000 academic experts,  but the one list I could find quickly only included about 20 universities, and only a handful in the U.S.
I still recommend the master list of experts compiled by journalist Julian Sher at JournalismNet. Picking at random just three sites off his list of expert services, here's what I found in a few minutes of testing the same searches.
AllExperts gave me 16 experts in less time than it took for my three searches on Expertise Finder.  Only downside is this site wants you to email the expert on its platform. Sometimes reporters don't get prompt answers that way.
Expert Click was no better than Expertise Finder
Profnet Expert Connection returned two good names, one, coincidentally, in my area.  It also wants you to email the person on its platform but I could easily find phone numbers and emails for these profs.
This was just one topic. And, granted,  this was only a 15-minute test. But that's about the time a producer or reporter would have to find a good contact.  Expertise Finder may grow into a more helpful tool, but for now I'd use Profnet or other sites off the JournalismNet site.