note: after 6 months, ReadyReporter is back and ready to give you more tips for quicker, better, smarter reporting.
One of the most popular seminars at the Investigative Reporters and Editors Conference each year is the one led by Goggle's senior research scientist Dan Russell.  It's usually standing-room only.  His Google+ posts have more than eight million views. One of his jobs is to give his staff hard research questions and dare them to find the answers. So he tries those questions out on a roomful of investigative reporters!
Last year at IRE he stretched my mind til it snapped, showing one picture of a city skyline and asking "where am I?"  And then he explained how we could have figured that out by taking a logo off a building in the foreground, looking at the surroundings,  and then mashing together many pieces of data, all searchable online, of course, via Google. Once you find that building and city, then a mapping program would show you the nearby hotel room from which he took the shot. He even showed us how to figure out the phone number in one of the buildings!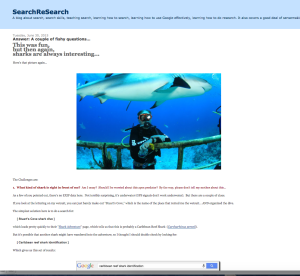 Here's the tip for today — if you want to learn more about online searching from one of the best, check out his weekly blog, SearchReSearch.  He poses a research question every Wednesday, and then shows you how to find the information, step-by-step. Just reading the blog will give you an education in searching.  This week's post is about sharks, a timely topic with the news about shark attacks in North Carolina.
If you'd like to follow him, he tweets at @dmrussell, where he also posts his weekly search quiz.  And you can take a free online course from him.
Extra bonus: this is the tip guide he gave at the IRE Conference, "How To Become an Instant Expert Using Google."