I commend the Syracuse Media Group and reporter Michelle Breidenbach for scouring the Defense Logistics Agency to find out about the cast-off armored vehicles that the feds gave to our local police.  In a series of stories she reported that our city of about 140,000 people is fourth in the state for taking such surplus from the military.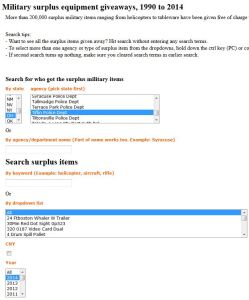 About 15 months ago the Syracuse police got a mine-resistant, ambush-protected vehicle like the ones used in Iraq. Thankfully, the police have yet to use the $600,000 tank. About a year ago it got a second armored vehicle, a copy of one that the county sheriff already has. You might guess that some citizens say we don't need all that — give it back.
If you're interested in seeing what local law enforcement in your area has received,  the Syracuse Media Group put together an easy searchable database (see left) for all states. Check out what has been given to your state.
Two story tie-ins this week:
protests about the militarization of police
the season of gift-giving.
Tell your readers, viewers and listeners what military surplus gifts have come their way. I bet they don't know!