Here's a quirky website that I just came across.  It might be an interesting place for new reporters to go to learn a bit about history in their new area. Or by looking at the photos there,  a daily reporter might find a story with a historical bent or an anniversary story. And any of you who are history buffs, or have them in your audience, this is for you!
HistoryPin is a volunteer-driven site in which people post historical photos and "pin" them to a location.
For example, I put in my hometown of Oak Harbor, Ohio, and came up with old photos from the national rifle matches which have been held near there there for years. The photos include a copyright notice and the original source – – in that case,  the Connecticut State Library. Here's the map with thumbnail photos which you can click on for detailed information.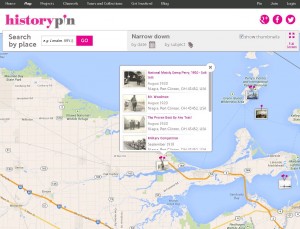 You can search by topic, by location. You can search in a particular year.   You can compare to today and Google's StreetView.  For more tips on that and ways to use HistoryPin, check out this page.  Here's a video overview of the project.
Try it out!  It's fun. Historypin has been developed in partnership with Google by a non-profit,  We Are What We Do.