Part of  a series on databases.
Tucked in a suite behind a non-descript beige door here at the Newhouse School at Syracuse University is an amazing group of people who crunch numbers and publish surprising statistics that help your readers/listeners/viewers gain insight into the performance of federal agencies and staff in your area.
It's the Transactional Records Access Clearinghouse, TRAC, pairing the great minds of David Burnham, an investigative reporter, and Sue Long, a statistical whiz and professor.
The two did data journalism before the name existed!
They started years ago by analyzing IRS records to track who was getting audited. To this day,  dozens of media organizations (including the New York Times)  publish TRAC statistics each April 15 about which areas of the country are most and least likely to be audited by the IRS!
But TRAC has expanded over these 20 years and now provide access to multiple databases from the U.S. Department of Justice and other federal agencies. With TRAC data you can find all types of statistics related to crime, justice and more, including:
a comparison of how often drug dealing is prosecuted in Northern New York compared to South Florida,
a comparison of the  the average sentence in Arizona (or any region)  for a certain white collar crime, compared to those in another part of the country,
a review of the activity level and effectiveness of a U.S. attorney's office by looking at the  number of cases that office wins,
the number of persons accused of terrorism and whether that percent is increasing or decreasing over time.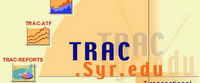 And there's much, much more. TRAC's goal is to help the public understand the  staffing, spending, and enforcement activities of the federal government. And by looking at that, citizens can get some sense of priorities and whether they match up to the rhetoric of politicians and public servants!
TRAC is not a database for a quick-hit story, as it's going to take some time on the TRAC website to understand the terms, learn to navigate the site, and make sense of the statistics. Much of the information is free, some is available for a fee to help underwrite the ongoing work.
Here's your chance to get a taste of what TRAC is up to. The staff is doing a webinar this week Thurs., May 17 at 2 p.m. EST on immigration trends and data. Or you can watch previous webinars at the TRAC Webinar Page.