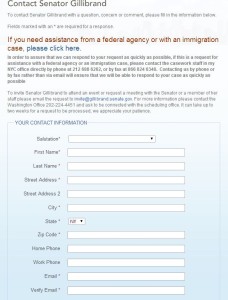 I didn't know that it wasn't easy to email members of Congress directly or that most members don't publish an email address. You have to go to their websites and fill out a form. Apparently one of the reasons is that they fear spam or mass emails from people outside their districts.
At the left,  here is the website form someone in Central New York must use to communicate with U.S. Senator, Kirsten Gillibrand.  It would be so much easier to keep her email in a contacts list and email directly from there.
Now the Sunlight Foundation has developed an easy way for citizens to email their representatives or senators, at its website, Open Congress. They search for their Congressmember and the email appears on the first page. I've circled it here: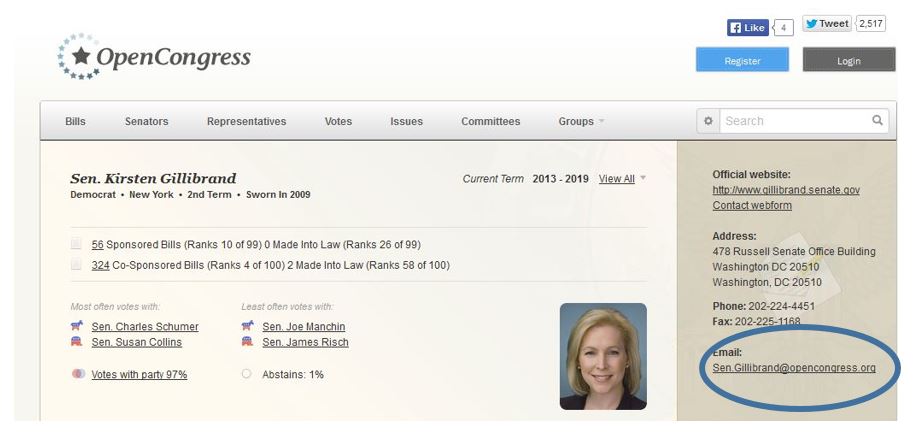 And even if, as a reporter, you generally go through the public relations staffers, you might want to let your readers, viewers and listeners  know of this easy way to let their voices be heard.  It's quick!
One limitation that Tom Lee, director of Sunlight Labs,  notes,  "For now, our system will only let you email your own representatives. A lot of people dislike this. We do, too. In an age of increasing polarization, party discipline means that congressional leaders must be accountable to citizens outside their districts. But the unfortunate truth is that Congress typically won't bother reading messages from non-constituents — that's why those zip code requirements exist in the first place. Until that changes, we don't want our users to waste their time."