Good luck to all of you spending a long, long day reporting on election day. Here are my top five websites if you need to research information on state or federal elections Tuesday: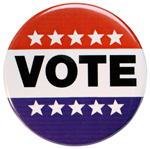 And here's my quirky bonus: The Green Papers. This doesn't look like much but I've found the information to be spot-on for primary and caucus dates, convention information, state links and historical perspective. 
Let me know below other must-haves political sites that you use.