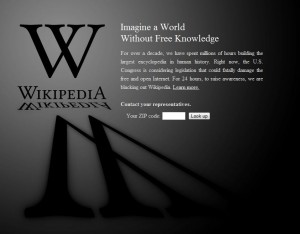 Okay so Wikipedia is temporary down today — What do you do?  While  Wikipedia can be a good pointer to information, you likely know that it isn't always reputable and has sometimes had some bogus information.  So, as with all sources, knowing how to use it, is the key.
But since it is down temporarily today as a protest, here are some other options for reference material:
 Infoplease offers an atlas, encyclopedia, dictionary and topical information. Part of the Pearson family of educational resources, it says that it started, interesting,   in the 30s as a popular radio quiz show, then became an almanac and went online in the 90s.
Encyclopedia Britannica has several references — the 21st Century Webster's Family Encyclopedia, as well as a series or articles and even the  1911 Encyclopedia Britannica with updates.
Answers.com is somewhat like Wikipedia in that it has a community of volunteers who provide answers. Some are experts, some perhaps not so.  So you should always double or triple source info from here. You ask a question and it checks either its references (what it calls its "encyclodictionalmanacapedia") or you can asks its WikiAnswers where its volunteer researchers will chime in to help.