update: Blogpulse was purchased and shuttered in January, 2012.
If I put the word "Sandusky" into a blog search two weeks ago maybe I would have come up with something about the city in Ohio, near my hometown, that is known for as the home of the amusement park Cedar Point and its scary roller coasters.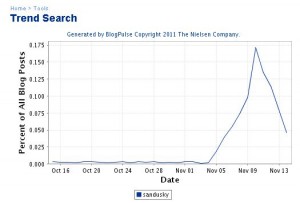 But today everyone recognizes that word as the last name of the former Penn State coach, who is accused of sexual abuse of young boys.
Check out the graphic at the left to see  how this term has spiked in recent days on blogs.
While it's fun to tap words into a site to see the ups and downs of usage, this can also be a helpful reporting tool.  You can spot trends or guage a story's interest.
This graph comes from BlogPulse Trend Search (free) which allows you to quickly visualize how often a topic or word appears, over time, in blogs. You can also compare words with each other.
It might help you stay ahead of the story, or at least keep up with it.