At #IRE14 I picked up some great tips for how to background people, or confirm they are who they say they are (or whom you think they are).  Here are 5 good ones:
LICENSING: Many professions are licensed. BRB Publications links to all state sites.  Also check this master site, CLEAR, the Council on Licensing, Enforcement and Regulation of links to state licensing records and more. For example, I used CLEAR to get to the New York State site and found this record for my dentist: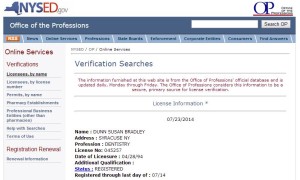 Just look at the list of all the professions licensed — from aestheticians to fuel technicians to roofers.
GOVERMENT EMPLOYEES: Margot Williams, now with the International Consortium of Investigative Journalists. ICIJ, recommended PIBuzz.com which offers links to government employees. Here you can find federal employees, some salary information and links to many state employee databases.  A real find!
DEEP WEB: Pipl is a website I gave up on because I didn't find it had much original information and I got frustrated with all the links for paid sites. But two panelists at IRE recommended it, and it only takes a few moments to check.
OBITS: And the other great tip I got at IRE was to use newspaper databases to pull up obituaries to find out relationships between people.  Is this really her daughter — it's generally all listed out right there in the obituary.
PRISONS:  If you're tracking someone involved in crime, check the federal Bureau of Prisons inmate locator or see if you can find a similar directory for the state.
Let me now your other tips for backgrounding people.