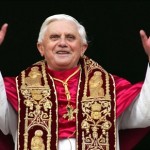 I was surprised to hear the news in the last hour that Pope Benedict  is resigning in a few weeks.  Here are some resources to help as you cover this story today:
And I've notice over the years that many journalists aren't familiar with religious terms, so this Religion Stylebook will help.  Two quickies:
Remember "catholic" means the universal church (even Protestants recite a creed acknowledging the catholic church, meaning all Christians),  but this denomination is the

Roman

Catholic Church.  

When referring to clergy the proper title is  "the Rev."  The term  "Reverend" is not a noun so don't write "the Reverend said…"  use the last name.