A hat tip to recent alum Emily Maher, @eamaher90, for her recent tweet of a resource that will help with story generation.  AP publishes a list of the 10 things to know each day in the news. And it's available on its website, which means you can get it on your smartphone, when you're not at the office to read the wires.
It appears in the mornings each day on the website, but if you're checking later in the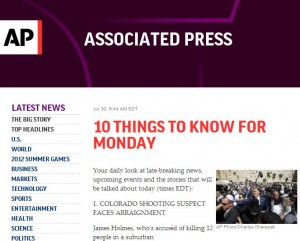 day, try this: Go to AP's main site and look in the left column for the search bar. Type in it "10 Things to Know" and you will get a list of stories and should be able to find it there.
If you don't see it in the list, use Control+F (on Windows), the find command, and search for "10 things".
Check it out each morning to make sure you know what's going on. And use it as a jumping off point for localizing an issue, following a trend or being ahead of the story.