I've written before  that Twitter's own  search only lasts a few days so it's difficult to find tweets more than a week old. So I've recommended you try Topsy  for searches.
Now great news. Topsy, as of last week, has indexed the whole twittersphere. It claims  that it can tell you the very first tweet back in 2006! And everything since.  What a great research tool for journalists.
And if you want to have some fun, you can find your first tweet. Or anyone's first tweet. Here's mine from 08/11/08:

Here's how to do it:
Go to Topsy.com
In the search box put from:yourusername. For example, I put from:bcfought
When you get the next screen of tweets, select "All Time" from the time range options on the left
Look at the top for a pull-down box and  sort the results by oldest
Here's what mine looked like, note the circled items: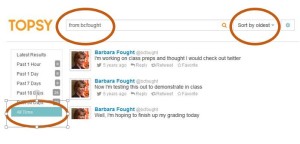 Of course you can look for others' first tweets as well. And Topsy has already pulled them for Justin Bieber and the first tweet to mention  Barack Obama.
Post a comment below if you have other great search tips.